Funny how the NBA team from Nawlins moved to, of all places, Utah, and kept the nickname, Jazz. The current NBA team are the Pelicans, not a bad name, but certainly not as colorful as jazz. But Nawlins is all about jazz. Check this out from Fodor's.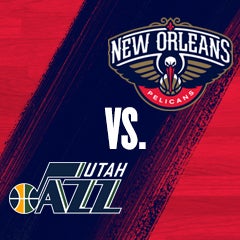 A strange juxtaposition??
No one knows exactly when jazz was born. Some say it is rooted in New Orleans' Congo Square before the Civil War. Others say it began in 1895 when Buddy Bolden started his first band. Or perhaps it was in 1917 when Nick LaRocca and his Original Dixieland Jazz Band recorded the first jazz record, "Liberty Stable Blues." Whatever the case, jazz originated among the African-American community in New Orleans, digging into blues and ragtime as its main influences. Today, this improvised, syncopated genre of music remains a mainstay along New Orleans' festive streets, where you can hear it on corners, in jazz clubs, and nearly everywhere you turn.
The New Orleans Jazz National Historical Park hosts free performances and educational events in two locations around the French Quarter, and the New Orleans Jazz Museum presents in-depth exhibits about the history and culture of jazz. The absolute must-see is Preservation Hall, the city's most famous jazz hall, though the Spotted Cat Music Club is always lively. Louisiana Music Factory is an independent record store on Frenchman Street that's known around the world for its rich inventory of rare records and obscure titles by jazz artists.
I have been to Preservation Hall several times. It is an only in Nawlins experience. You must add it to your "water pail" list.
The New Orleans Jazz Museum is another fun stop. It is located in the old U.S. Mint.
The museum's collection includes the world-renowned New Orleans Jazz Club Collection, which was gathered over several decades by the New Orleans Jazz Club. The collection includes the world's largest collection of jazz instruments, prized artifacts, photographs, and ephemera. Examples of artifacts within the collection range from Louis Armstrong's first cornet to a 1917 disc of the first jazz recording ever made. It includes the world's largest collection of instruments owned and played by important figures in jazz- trumpets, cornets, trombones, clarinets and saxophones played by jazz greats such as Bix Beiderbecke, Edward "Kid" Ory, George Lewis, Sidney Bechet, and Dizzy Gillespie. Other artifacts in the collection include some 12,000 photographs from the early days of jazz; recordings in a wide variety of formats, including over 4,000 78 rpm records that date from 1905 to the mid- 1950s, several thousand 12-inch LPs and 45 rpm records, and approximately 1,400 reel-to-reel tapes; posters, paintings and prints; hundreds of examples of sheet music from late 19th-century ragtime to popular songs of the 1940s and 1950s – many of them first editions that became jazz standards; several hundred rolls of film featuring concert and nightclub footage, funerals, parades, and festivals; hundred of pieces of relevant ephemera; and architectural fragments from important jazz venues.
In addition, the collection includes research materials such as letters, photographs, and interviews, which are available to researchers by appointment.
My other musical pursuit here would be finding a gospel brunch. Any ideas??
A city with its own signature cocktail is bound to be fun. New Orleans actually has several with classics, including the French 75 and Hurricane, invented here. The Sazerac, a potent concoction of sugar, cognac and bitters, served in an absinthe-rinsed glass, is the drink most closely associated with the city.
Totally irrelevant statistic: Brennan's uses 35,000 pounds of bananas yearly to make their famous Bananas Foster.
Nawlins is one of my favorite cities, not only in the US, but the world.